Alpina Rottefella
Solution Touring XC U 175CM
USED DEMO ALPINA SOLUTION XC SKI W/ ROTTEFELLA NNN BINDING- 175
99
Reward Points
About this item
Brand
Model
Solution Touring XC
Product Information
 ***With multiple used units for sale, some skis may differ slightly from picture. All are in the same condition*** additional photos available upon request
One of the favorites is back again with an updated graphic and the same reliability as before. The Alpina Solution Cross Country Skis are built for ease-of-us so you can hit the trails and enjoy a nice winter day doing what you love. The Posi-Grip No-Wax Base allows you to climb the hills with ease and tackle the more challenging areas with confidence. Whether you're a trailblazer or enjoy the tracks, the Solution was built to be versatile. It boasts a wide platform and a short design so that it can handle the fresh powder just as well as the prepared tracks. If you know what you're doing and you're looking for a solid new pair of cross country skis well there's only one solution. Literally, it's called the Alpina Solution Cross Country Skis.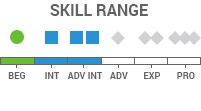 Cap Construction
Posi-Grip No-Wax Base
Less than 125lbs (@ 165cm); 120-145lbs (@ 175cm); More than 175lbs (@ 195cm)
#2
Questions
Question
I'm interested in this set. However, I'm new to the cross country industry. I live in Santa Fe and I'd like something for off trail, and packed trail climb approaches. Low grade summits. And general touring. I'm 5'7" and 150lbs. I apologize for the long question, but if you can help confirm my needs I'll buy.
Answer
Hi there! you're about right on the size but this ski probably wouldn't fare too well off trail.This is designed for track skiing. What you want is a slightly wider ski with metal edges and a NNN BC binding set up. I have some available on here. Just search "Alpina Discovery" and there will be some options with or without bindings. you probably need between a 170-180cm ski based on height and weight. Hope this helps!!
Question
Hi! I'm interested in a set of skis, bindings and boots for myself and my husband. We're new to cross country and would be doing more of a mixed terrain either breaking trail in the woods or traveling on hiking trails, not a lot of designated XC trails and are wondering what you'd recommend and if you'd do a bundle deal?
Answer
Hi! Yes I'm Sure we can work something out. Email me at skipro09@gmail.com and we can figure it out
Question
Will these work with SNS boots?
Answer
I believe this will only work with NNN boots
Question
I'm interested in buying these and wondering if you could describe more about why the skis are rated "fair" condition?
Answer
Because I have multiple units for sale of the same ski and they are all used rentals. I only say fair so that people know they are used but most of these are better than fair condition. I also priced accordingly